Park Place Dental Group
Dentistry & Cosmetic and Restorative
Dentistry located in Arts Section, Newark, NJ
Your quality of life and social interactions can be adversely affected if you are missing or have severely damaged teeth. Fortunately, modern dental advancements offer a reliable and exciting solution to your concern in the form of dental implants. In a previous blog post, we discussed how important are dental implants for oral health. However, in this blog post, we will understand whether an oral surgeon performs dental implant procedures.
---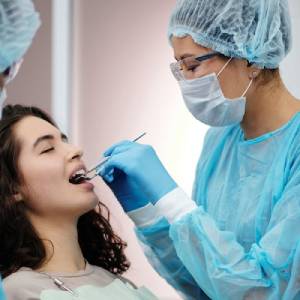 The procedure involves a small titanium post surgically implanted into the jawbone, serving as a sturdy base for a dental crown or bridge. You can reclaim your life with dental implants that provide natural-looking results that will last many years.
You might wonder whether an oral surgeon in Newark is qualified to perform dental implant procedures. Discover the importance of oral surgeons in dental implant surgery, the necessary qualifications, and what to expect during the procedure.
Oral Surgeons and Dental Implants:
Oral surgeons are dental specialists who have completed additional years of training beyond dental school. Oral surgeons are extensively trained dental specialists who diagnose and treat oral, jaw, and facial conditions. Their qualifications and experience enable them to perform various complex dental procedures, including dental implant surgery.
So should you visit an oral surgeon for a dental implant? Absolutely. Oral surgeons are often sought after as the preferred implant dentist in Newark for such procedures. Your specialist can get you dependable and satisfactory results in a comfortable environment.
Qualifications of Oral Surgeons:
Dental implant surgeons are dentists who have completed oral and maxillofacial surgery residencies and hold a Doctor of Dental Surgery (DDS) or a Doctor of Dental Medicine (DMD) degree.
The residency program provides advanced training in anesthesia, oral pathology, dental implant surgery, and other surgical procedures involving the mouth, jaw, and face.
The Dental Implant Procedure: What to Expect:
If you choose to have an oral surgeon in Newark perform your dental implant procedure, you can expect a thorough consultation to assess your oral health and determine whether you are a good candidate for the procedure.
Your surgeon will then create a customized treatment plan, including bone grafting, if necessary, to ensure a stable foundation for the implant. The surgical placement of the implant typically takes place under local anesthesia.
The healing process can take several months while the implant fuses with the jawbone. A dental crown or bridge can be attached to the implant once fully integrated with the bone.
Prepared to Alter Your Life Forever?
Choosing a qualified and experienced oral surgeon who can provide the best possible care and outcomes is essential if you are considering dental implants.
Schedule a consultation with our expert Dr. Myung Hyon and the team of experienced professionals at Park Place Dental Group to find dental implants near me in Newark and determine whether dental implants are right for you. For more, browse through our website or call us at 973-732-3208 right away.
Book an appointment today for a charming smile!