Park Place Dental Group
Dentistry & Cosmetic and Restorative
Dentistry located in Arts Section, Newark, NJ
Who do you call when you have tooth, gum, or jaw pain? Is it your oral surgeon or your periodontist? Well, they are two different specialists within dentistry. They work on different treatment roles even if one can fill in the other's shoes at times. In our previous blog, we have explained the importance of visiting a periodontist for your oral health. Along these lines, let's see the difference between the oral surgeons and periodontists for better understanding and wise decision making.
---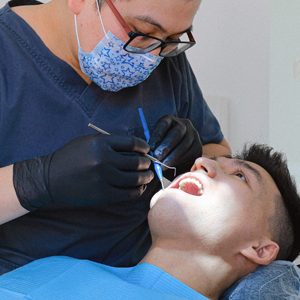 Understanding The Role of An Oral Surgeon in Newark:
If your dentist determines that you require oral or maxillofacial surgery, you will be referred to a specialist. This professional will be an individual who specializes in the treatment of diseases and injuries to the mouth, teeth, jaw, and gums.
Oral surgeon in Newark can correct the following abnormalities: birth deformities, remove cancerous tumors, perform difficult tooth extractions, jaw injuries, extraction of wisdom teeth, dental implants, orthodontic surgery used to straighten teeth, oral diseases, trauma in the face, reconstruction, grafting of bone, oral surgery for children, and grafting of the dentin.
You may need to see a periodontist depending on the scope and severity of your condition.
Understanding The Role of Periodontist in Newark:
A periodontist, like an oral surgeon, can treat gum disease and injuries. A periodontist in Newark, is a gum specialist rather than an oral surgeon who works to solve a wide range of problems. The periodontist is concerned with the health of the mouth's soft and hard tissues.
Gum disease can be cured by any qualified dentist in the early stages. Most mid-stage cases can be handled by an oral surgeon. However, if the condition has progressed, a periodontist may be recommended. Root planing, root surface debridement, and scaling are some of the procedures they can conduct.
Oral surgeons are trained to insert dental implants. A periodontist may recommend them after treating periodontal disease that has resulted in tooth loss.
A Periodontist's Expertise:
Periodontists are experts in gum disease therapy, both surgical and non-surgical. Periodontics is a branch of dentistry that focuses on preventing gum disease. Gum recession treatment and gingival cosmetic procedures are also carried out by periodontists. For patients with complicated needs, periodontists frequently interact with dentists and oral surgeons.
Differences in the Training of Periodontists and Oral Surgeons:
Clinical clerkships and rotations allow dental students to study dentists and work with real patients during their four-year graduate program. After dental school, a periodontist in Newark further pursued three years of postgraduate education.
Dentists and periodontists receive greater training and instruction than oral surgeons in Newark, notably in the administration of anesthetics. They train in a hospital for four years or more, working alongside medical residents in a variety of specialties.
Conclusion:
So, if you have an adverse dental condition, and are looking for the right dental clinic, then a good recommendation would be Park Place Dental Group. Dr. Myung Hae Hyon is the best general dentist near you in Newark. If you require the service of an oral surgeon or a periodontist, then approach Dr. Lealon Robinson, DMD and Dr. Zalman Lewis respectively. Browse through our website of Park Place Dental Group to gather more information about our services. Call us at 973-732-3208 to arrange for an appointment right away.