Park Place Dental Group
Dentistry & Cosmetic and Restorative
Dentistry located in Arts Section, Newark, NJ
Are you confused about what to do next to soothe persistent dental issues? Put an end to your worries and learn more about choosing whether you need a general dental clinic visit or urgent oral surgery from this article. In a previous blog post, we discussed the importance of dental implants for oral health. In this new blog post, we will explore the key difference between an oral surgeon in Newark and a general dentist.
---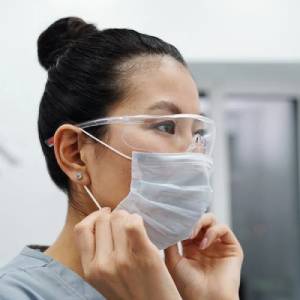 Initially, an oral surgeon in Newark needs to complete a general dentist training period. During their surgical specialization, they observe and take on various complex cases. If you need a tooth extraction, proceed to visit a general dentist. For any implantology-related dental issues - dental implant or emergency facial trauma please reach out to an oral surgeon.
What Does a General Dentist Near You in Newark Do?
Usually, general dentists will offer you primary treatment or routine checkups. Furthermore, they will also keep proper track of your family's medical history and ensure early detection of any future conditions.
What Is The Role Of An Oral Surgeon in Newark?
An oral or maxillofacial surgeon is well-versed in overall mouth, teeth, and jawline-related deformities. They also often have expertise in plastic surgery, emergency facial trauma, or dental injury. After finishing their general dental training, oral surgeons spend six years as resident practitioners to learn more about the complexities of the mouth.
Two Amazing Benefits of Visiting a General Dentist Near Me in Newark:
Many individuals of all ages suffer from dental anxiety. Children most likely develop a dental phobia early if they face any discomfort during primary procedures. They often avoid or delay dental procedures. An efficient general dentist can make you feel comfortable and less anxious during a dental checkup. A positive, healthy, and hygienic environment will help you and your kids to have an effortless dental experience.
A general dentist is well aware of the medical family history of all members. In emergencies, they will be more cautious about any previous health conditions, medicinal restrictions, and allergies.
Benefits of Visiting an Oral Surgeon in Newark:
Expertise in Sedation Dentistry:

One of the key benefits of visiting an oral surgeon in Newark is their extensive knowledge and experience in sedation dentistry. Oral surgeons are skilled in handling complex dental treatment procedures while ensuring patient comfort. With their expertise in sedation techniques, they can effectively manage pain and anxiety, making your dental experience more comfortable. Additionally, their familiarity with sedation dentistry can streamline the medical billing process, providing you with a smoother overall experience.

Wide Range of Specialized Services:

Oral surgeons offer a comprehensive range of specialized services to address various dental and facial conditions. From root canal treatments to dental implants, lip and tongue surgeries to cleft lip treatments, TMJ pain management to facial reconstruction surgeries, oral surgeons are equipped to handle a diverse range of procedures. Their advanced training and expertise in oral and maxillofacial surgery enable them to provide comprehensive care and address complex oral health issues effectively.

By seeking the services of an oral surgeon in Newark, you can benefit from their advanced skills, specialized treatments, and personalized care to achieve optimal oral health and facial well-being.
Comprehensive Dental Care in Newark - Your Trusted Essex County Dentist
Make your oral hygiene and dental health a priority with the best advanced medical facilities at Park Place Dental Group. Dr. Myung Hae Hyon and his experienced team offer gentle and comprehensive oral care. As a well-known and established Essex County dentist in Newark, Dr. Hyon provides a wide range of dental services at affordable prices, including general, family, pediatric, and cosmetic dentistry solutions. Additionally, Park Place Dental Group offers periodontal interventions, primary oral cancer screenings, and implant dentistry-related treatments. Choose a better state of well-being and entrust your dental care to our dedicated team.