Park Place Dental Group
Dentistry & Cosmetic and Restorative
Dentistry located in Arts Section, Newark, NJ
Choosing a dentist can be a strenuous task. Whether it's for deep dental work, tooth extraction, or if you want to clean your teeth thoroughly you need to choose the right dental specialist to perform the job. In our previous blog we have explained about 4 procedures that a periodontist performs in Newark. If you are wondering whether you should see an oral surgeon in Newark or a periodontist, continue reading to find out what works best for you.
---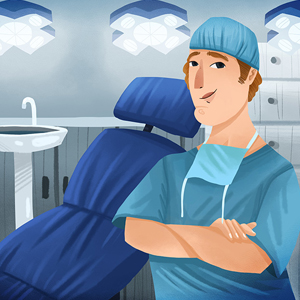 Who is an Oral Surgeon & what's their Function in Newark?
Oral surgeon in Newark receives additional training for four to six years and are credited with a post-doctoral certification. They have ample training in performing all types of oral and facial surgery. All oral surgeons including Dr. Lealon Robinson at Park Place Dental are certified by national-level boards giving them the right to work in hospitals and dental clinics.
9 Signs You Need to Consult an Oral Surgeon in Newark:
Tooth extractions.
Dental implants, bridges, dentures.
Oral biopsies.
Bone grafting surgery.
Oral and facial infections.
Facial trauma surgery.
Jaw correction surgery.
Pediatric oral surgery.
General anesthesia/dental sedation.
Who Is a Periodontist?
On the other hand, a periodontist in Newark like Dr. Zalman Lewis at Park Place Dental usually receives additional training for two years once they have completed dental school. Periodontist are specialized in dental implants and help in taking care of tissues. They provide dental care for surgical and non-surgical issues. They provide preventive treatment for patients who are at risk.
The Periodontist in Newark Take Care of the Following Issues:
Preventive services for periodontal procedures.
Gum diseases.
Treating swelling in and around the jaw.
Root surface debridement, planing and scaling.
Bone grafting for dental implant placement.
What's the Difference Between a Periodontist and an Oral Surgeon?
The basic difference is that a periodontist in Newark focuses on dental implants and gum health, and other surgical procedures related to jaw, face and mouth. There are certain procedures that can be overlapped between periodontics and Oral Surgery in Newark within the field of dentistry.
Conclusion:
Now that we know the difference between a periodontist and an oral surgeon, it's time for you to make the right decision. If you are looking for an oral surgeon in Newark or a periodontist in Newark, visit Park Place Dental. Take a trip to the office in Newark, New Jersey and get consulted by Dr. Lealon Robinson and Dr. Zalman Lewis respectively. Visit our website for details regarding services offered or patient testimonials. For more call 973-732-3208 and book your appointment now.