Park Place Dental Group
Dentistry & Cosmetic and Restorative
Dentistry located in Arts Section, Newark, NJ
A periodontist diagnoses and treats various periodontal diseases. Dr. Myung Hae Hyon at Park Place Dental is a periodontist who helps his patients to stay protected from gum diseases and causes of sensitive teeth in Newark. Dentists recommend going for regular dental cleanings that keep gum diseases at bay. Here are a few procedures that a periodontist performs.
---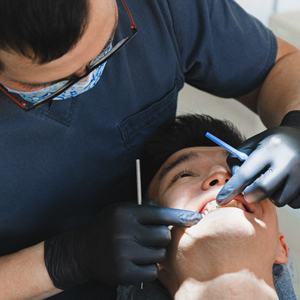 Procedures Performed by Periodontist in Newark:
When faced with gum-related issues visit a periodontist immediately and consult him for the dental problems. The first visit to the periodontist in Newark results in a comprehensive evaluation of dental records and medical history. The dentist performs various periodontal procedures. Here are a few procedures that everyone should know about-
4 Procedures That a Periodontist in Newark Performs:
Dental Cleanings:

The periodontist in Newark provides regular dental cleanings that help remove tartar and plaque from below and above the gumline. Frequent dental cleanings are one of the ways to stay away from severe periodontal disease.

Pocket Reduction Surgery:

The oral surgeon in Newark carries out surgery when the periodontal disease reaches the advanced stage. In this surgical intervention tartar is removed, and gums are lifted. In addition, rough edges of a damaged bone are smoothened that helps in the removal of disease-causing hidden bacteria. Finally, gums are placed such that tissues fit around the tooth, reducing space between the tooth and gum. Thus, it curbs the spread of bacteria once again.

Root Planing and Scaling:

Root planing and scaling is another dental procedure provided by a periodontist. The process is not surgical. It includes deep cleaning which is performed with the aid of local anesthesia. Tartar and plaque are gently removed, and rough spots on the tooth root are smoothened with planning. Removal of these rough spots helps eliminate bacteria and create a clean and smooth surface for the gum to get reattached to the teeth.

Bone Grafts:

Many people suffer from sensitive teeth in Newark and the periodontist observe the problem and perform bone grafts. In this surgical procedure, fragments of bone of the patient, synthetic bone, or a donated bone are used to replace damaged bone. It helps in bone regrowth that stabilizes the teeth. In addition, the periodontists often use soft tissue grafts that help fill places where gums have recessed.
Conclusion:
Our periodontist in Newark also provide many other gum disease treatments that help patients enjoy good dental health. Schedule an appointment with Dr. Myung Hae Hyun at Park Place Dental Group to get your dental problems diagnosed. Visit our website to learn more about appointments, special offers and testimonials. For more information call us at 973-732-3208 and have a conversation with them right away.