Park Place Dental Group
Dentistry & Cosmetic and Restorative
Dentistry located in Arts Section, Newark, NJ
Gum disorders are one of the prominent reasons for triggering tooth loss. Anyone who fails to maintain proper dental hygiene will experience the negative impacts of gum disease eventually in their lives. While gum disease can progress into a devastating condition if left untreated, it is treatable in its early stages and must never be ignored. Professional assistance of a periodontist is required for periodontal disease. If left untreated, the illness might eventually lead to irreparable bone loss. In our previous blog, we have explained 5 reasons you need to visit a periodontist in Newark for bleeding gums. Read on to discover more about gum disease and whether an extraction can cure it or not.
---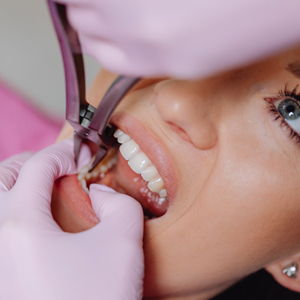 5 Symptoms You Need to Visit a Periodontist in Newark for Gum Disease:
As mentioned previously, identifying the symptoms of gum disease is the best way since it can result in early treatment. There are typically distinct symptoms based on the stage of gum disease namely:
Puffy, and sensitive gums
Loosened or detached permanent teeth
Gums that have retreated from the teeth
Bleeding gums
Any transformation in the way your teeth come together when you bite
Steps to Follow if You Suffer From Gum Disease:
If you feel you have gum disease, consult your dentist right away since the earlier you treat it, the better. Gingivitis marks the beginning of gum disease. Our periodontist in Newark reveals the progress made by the disease in the latter stage. An individual's gums could turn red due to gum disease.
The gums can get inflamed, and will be prone to instant bleeding if you display symptoms of gingivitis. The gum disease condition can still be reversed at this point. It can be cured if the patient opts for a systematic cleaning at the nearby dental office. This must be accompanied by brushing and good flossing.
Does Tooth Extraction in Newark Cure Gum Disease?
In the event of periodontal disease, tooth extraction is usually performed when everything else fails. But tooth extraction does not cure gum disease. Gum disease therapy entails a few visits to the implant dentist in Newark, who will offer medication as part of the recovery procedure.
Tooth extraction due to periodontal disease should preferably be done only after the gum disease therapy has been completed. Patients have several alternatives for restoring lost teeth, including dentures, restorations, and dental implants.
Gum disease is an ailment of the gum tissue; it is not really a tooth infection. As a result, it is critical to recognise that eliminating your teeth will not treat or cure your gum disease. Extraction in Newark, on the other hand, might be a crucial element in your treatment strategy to get your dental health back on course.
Conclusion:
Dr. Lealon Robinson, is the finest oral surgeon in Newark. Park Place Dental Group, where he serves, is your best choice for dental services. The clinic has an expert team, comprising Dr. Myung Hae Hyon and Zalman Lewis who are general dentist and periodontist respectively. Park Place Dental offers a wide range of gum disease treatments. Call us at 973-732-3208 or browse through our website of Park Place Dental Group to arrange for an appointment right away.