Park Place Dental Group
Dentistry & Cosmetic and Restorative
Dentistry located in Arts Section, Newark, NJ
Various conditions, such as injuries, periodontal diseases, tooth decay, and medical conditions like diabetes or rheumatoid arthritis, can lead to tooth loss. However, this need not be cause for any distress. An excellent way to restore your smile is to replace your missing teeth with dental implants. Cosmetic dentists and implant dentists will aid you through teeth replacement and improve your quality of life. Dental Implanting is an invasive procedure that provides a long-lasting solution to teeth replacement. It is crucial to approach the right professional to perform your replacement surgery since implants replace the natural roots of your teeth in your jawbone, giving you a naturally beautiful smile. In our previous blog, we have explained 4 reasons to consult a cosmetic dentist in Newark. Read further to learn about dental implants and whether your nearest cosmetic dentist is appropriate for your procedure.
---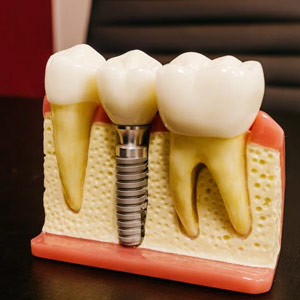 What are Dental Implants?
Dental implants replace missing teeth in your jawbone by surgically placing artificial teeth. The implant consists of metal posts and screws holding the crown, a tooth-shaped cap that mimics the appearance of natural teeth. Depending on the implant type and your jawbone's health, it may be necessary to undergo multiple surgeries to place a dental implant.
In cases where a root canal alone will not suffice to restore a tooth, dental implant is an ideal solution. The implants can last longer than 20 years with adequate oral care and feel identical to your natural teeth. Several factors can affect how long the procedure would take, including the shape, the coating, and the anchorage, which our cosmetic dentist in Newark shall assist you with for the best results.
Can a Cosmetic Dentist in Newark Install Dental Implants?
Dental replacement surgery can be provided by both general and cosmetic dentists or oral surgeons. Each dental speciality has its own success rate. Hence implantologists or dentists specializing in surgery are often the best choice for implants. Cosmetic dentists with skill, certification, and experience can listen to your concerns and provide the right care, no doubt. But, try visiting a dentist who understands and confirms the health of your jawbone and assesses your needs before the procedure. Approaching a cosmetic dentist with a specialization in dental implants is crucial. The top implant dentist in Newark can anticipate and deal with any complication that may arise with the highest success rate. The expert focuses on providing you with the best natural-appearing solution and keeping your best interests in mind. Cosmetic Dentists may also collaborate with oral surgeons or periodontists, depending on the complexity of your need.
Conclusion:
If you are looking for dental implants near you in Newark visit our dental office for the best oral care and dental implant procedure. Call us at 973-732-3208 to schedule an appointment right away.