Park Place Dental Group
Dentistry & Cosmetic and Restorative
Dentistry located in Arts Section, Newark, NJ
A patient may require oral surgery for a variety of reasons, including tooth extraction, gum therapy, or implants. The period post dental surgery is crucial for the patient's speedy recovery. Though oral surgery is an overnight treatment that does not necessitate hospitalization, there is indeed a high danger of negative impacts if the recuperation is not performed in the best possible conditions. In our previous blog, we explained reasons to pick an oral surgeon in Newark for dental implants. However, there are certain tips to abide by during the postoperative phase to ensure a rapid recovery after oral surgery. Read on to get a better understanding.
---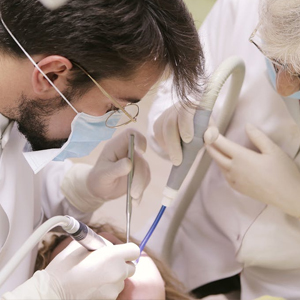 7 Tips to Recover From Oral Surgery With Oral Surgeon in Newark:
Keep Yourself Hydrated:

It goes without saying that hydration is essential for supporting proper bodily function, particularly healing. Drink plenty of fluids, but minimize anything excessively warm or cold to avoid pain or sensitivity.

Select Soft Food:

Due to the obvious possibility of swelling, inflammation, and discomfort, after undergoing dental implants with an implant dentist in Newark you should give your teeth a rest following the procedure. Stick to soft things like mashed potatoes, milkshakes, cereal, and ice cream during the first several days.

Ice is Your Best Friend:

Your face may become puffy and sensitive following the surgery. Compress the afflicted region with ice for 15 minutes after post-procedure. Repeat the process at an interval of 15 minutes.

Go for Painkillers:

To control your discomfort, consult your family dentist near me in Newark. If required, you can seek their advice to get pain relievers that are appropriate for your dental health situation. Based on the intensity of the problem, you may be prescribed specific painkillers or over-the-counter pain relievers.

Omega-3S Rich Diet:

To help reduce inflammation following surgery, try including healthy omega-3s, like those found in salmon and tuna, into your diet.

Safeguard the Surgical Site:

You should use extreme caution for a few hours following your oral surgery. Do not disrupt the surgical site as that may trigger a blood clot. This will expedite the healing process. Our cosmetic dentist in Newark recommends reducing talking, eating and drinking to allow minimum movements for the area. Additionally, resist spitting in all instances since it may destabilize the blood clot.

Get Enough Rest:

You should allow your body ample rest over the following 24 hours. For a minimum of one week, avoid vigorous physical activities. You can bounce back to your routine once the operated area is healed fully.
Conclusion:
Dr. Lealon Robinson at Park Place Dental Group is one of the best and most reliable oral surgeon in Newark. For more information, call us at 973-732-3208 and schedule an appointment today.