Park Place Dental Group
Dentistry & Cosmetic and Restorative
Dentistry located in Arts Section, Newark, NJ
It's no surprise that a beautiful grin is timeless. A bright smile not only produces a favorable and long-lasting impression. But it is also recognised to have several advantages such as improving one's mood and self-confidence.
---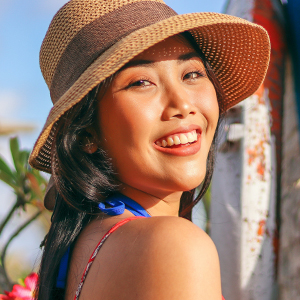 have several advantages such as improving one's mood and self-confidence. Summer is a time for rejuvenation and revival. What can be a better time to revitalize your smile by picking out from a variety of dental procedures? In our previous blog, we have explained 4 reasons to consult a cosmetic dentist in Newark. However, here we have explained five compelling reasons to visit your cosmetic dentist this summer, for a sparkling and appealing smile.
5 Reasons For Teeth Whitening in Newark For Bright Smile This Summer:
Leaving The Perfect Impression:

Though you should not really judge a book by its cover, several individuals acknowledge that their first impression of someone is formed by their grin. According to studies, those with white teeth are viewed as younger, wiser, and more successful. Whether you're looking for a new job or going on a vacation, you can make sure your grin is making the appropriate impression.

Having a Flexible Schedule:

If you intend to take some time away from school or at work during summer, you'll have extra time in your calendar for a dentist visit. You may spend a day investing in your smile with a solution, such as an in-office or at-home procedure, that matches your schedule.

Long Term Results:

If you've tried over-the-counter whitening creams, you've undoubtedly seen no meaningful results. Professional teeth whitening in Newark will not disappoint you. To remove stains and discolouration, a highly concentrated bleaching chemical penetrates the enamel. Considering your aftercare, for the upkeep of good dental hygiene, your smile might last a few months to years.

Stand Out Everywhere:

Summer is a popular time for weddings, family reunions, block parties, and other social events. It's a social season, therefore now is the time to make your grin even more amazing and memorable! You'll be prepared for any close-up photos involving family members and friends with your new smile.

A Confidence Booster:

According to research, persons who dislike their teeth frequently have low self-esteem. If you're self-conscious about stains and discolouration, a trip to the dentist will help you enjoy the summer without feeling self-conscious. You'll appear younger and feel better about participating in outdoor adventures you might have shunned previously.
Conclusion:
Dr. Myung Hae Hyon at Park Place Dental Group is the best cosmetic dentist in Newark. Dr. Myun Hae Hyon leads a skilled team of dental professionals which includes Lealon Robinson, DMD and Zalman Lewis DDS who excel in oral surgery and curing periodontitis. Park Place Dental Group is known for providing the best dental services in Newark and Essex County. Browse through our website of Park Place Dental Group or call us at 973-732-3208 to gather more information right away.