Park Place Dental Group
Dentistry & Cosmetic and Restorative
Dentistry located in Arts Section, Newark, NJ
Everyone wants to wear a million-dollar smile to feel like a star. Teeth whitening does help them achieve that dream. There are many over-the-counter teeth whitening products available out there in the market. But often they fail to produce proper and safe results. Having said that, teeth whitening should be performed by a cosmetic dentist. This is because teeth whitening comes loaded with many benefits. In our previous blog, we have explained the preparation for teeth whitening treatment in Newark. Read along to know the benefits of teeth whitening.
---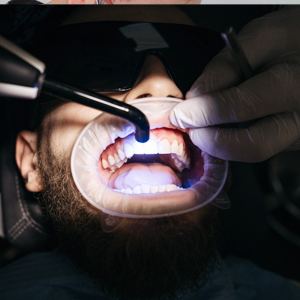 5 Benefits of Professional Teeth Whitening in Newark:
A Happening Social Life:

Have you heard of the fact that people with clean, white, confident smiles are very successful and have a better social life? A good smile lifts up a person's self-esteem. Thus a good smile makes them more confident and positive. Cosmetic dentistry procedures provide them a great life which they deserve.

Safe and Dependable:

Put your oral health in the hands of a cosmetic dentistry professional. Tooth sensitivity might be exacerbated if you purchase and use a whitening product that isn't tailored to your unique needs. A dentist will be present to oversee the whitening procedure. The dentist will ensure that you receive proper follow-up when it is completed.

A Clean and Healthy Mouth:

When dark-colored foods and drinks, such as coffee, red wine, and berries, are consumed over time, staining can occur. Tobacco usage is another factor that causes stains. Also, as we become older, our teeth turn yellow. As dental enamel thins, the internal component, the dentin, becomes more visible, which naturally looks yellower. A cosmetic dentist in Newark will help you get rid of this issue for good.

Quick and Effective:

Rather than following the one-size-fits-all approach of over-the-counter kits, having your teeth whitened by a cosmetic dentist must be chosen. It allows you to experience a treatment offered by a specialist which is targeted to your mouth and individual oral needs.

Evenly Whitened:

Over-the-counter teeth whitening products are available in a single generic fit. This implies that a person could buy a dental tray and then discover that it fits well or poorly, or doesn't fit at all when they get home. Teeth whitening products that aren't custom-made to fit a person's teeth can leave them with a smile that isn't uniformly white.
A dental practitioner will design a teeth whitening treatment that is tailored to a patient's specific requirements. If the dentist recommends tooth trays, for example, they will be custom-made from a mold of the patient's teeth. Going for professional teeth whitening is heavily recommended.
Conclusion:
If you have decided to get a teeth whitening in Newark, get in touch with the best cosmetic dentist. There are many dental clinics but the best dental clinic for teeth whitening would be Park Place Dental Group. Dr. Myung Hae Hyon and the team he leads at Park Place Dental Group provide excellent teeth whitening service as a solution for your stained teeth. Park Place Dental Group can provide remarkable results safely and fast, whether you're searching for a quick in-office or at-home treatment. Call us at 973-732-3208 right away or arrange for an appointment by visiting our website of Park Place Dental Group.