Park Place Dental Group
Dentistry & Cosmetic and Restorative
Dentistry located in Arts Section, Newark, NJ
Have you ever faced sensitivity or uneasiness after grabbing a bite of frozen yogurt or a spoonful of hot soup? If yes, then you are not going to fight this battle alone. Pain brought about by hot or cold food varieties could be an indication of a cavity which is a very common factor in people who have sensitive teeth.
Tooth decay or tooth sensitivity is by and large a reaction to specific changes, like hot or cold temperatures. Visit Park Place Dental Group in Newark if you are encountering issues related to teeth sensitivity.
---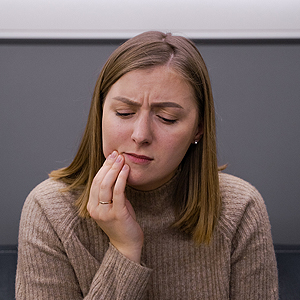 Causes of Sensitive Teeth in Newark:
There is no specific reason as to why people face issues like teeth sensitivity. It can be due to brushing the teeth too hard, using a hard toothbrush, consuming a lot of acidic food, etc.
Apart from these, there can be some other reasons which can lead to tooth sensitivity such as tooth decay, chipped teeth or broken teeth. Due to thinner enamel, some people usually have more sensitive teeth than others.
What causes teeth sensitivity?
At times the teeth become exceedingly sensitive post the dental work like crowns, getting fillings or teeth bleaching. In this situation, it would affect the tooth which has undergone dental surgery, and the neighboring ones. However, the sensitivity will disappear after a few days.
At times, different conditions can prompt tooth affectability. Gastroesophageal reflux (GERD), for instance, can make corrosiveness come up from the stomach and throat, and may wear out teeth after some time. Conditions that cause regular vomiting — including gastroparesis and bulimia — can likewise make corrosive wear out of the enamel.
How is it treated?
If your teeth sensitivity is less, then you can attempt over-the-counter dental medicines. Pick toothpaste that is marked as being exclusively made for sensitive teeth in Newark. These toothpaste will not have any disturbing elements. They have desensitizing elements that help block the inconvenience caused to the nerve of the tooth. When it comes to mouthwash, hand-pick a liquor free mouthwash as it will not disturb the sensitivity of the teeth.
Utilize soft toothbrushes. Brushing tenderly can help. It normally takes a few applications for these solutions for work. An improvement will be visible within one week.
Takeaway:
In case you're encountering tooth sensitivity, arrange an appointment with Dr. Myung Hae Hyon, Lealon Robinson DMD, Zalman Lewis DDS who practice at Park Place Dental Group. Inspect their website to gather more information regarding the types of services, testimonials or to have a conversation right away!