Park Place Dental Group
Dentistry & Cosmetic and Restorative
Dentistry located in Arts Section, Newark, NJ
If your beautiful smile is being noticed by many, then you are gifted. Nobody turns away from a shiny white smile. However, a stained set of teeth can turn out to be a nightmare. Many people shy away from smiling due to reasons such as stained teeth, uneven teeth, cracked teeth, and many more. But discolored teeth are the most evident and need correction with no second thought. So, many are choosing to go in for teeth whitening in Newark.
---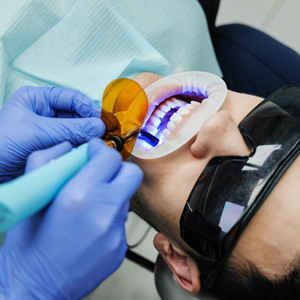 Understanding teeth whitening:
Teeth whitening is one of the best and cost-efficient cosmetic dentistry procedures. The procedure is done by withdrawing both plaque as well as tartar from the teeth. Cosmetic dentists in Newark will check your teeth to make sure bleaching suits you or not. Another name for teeth whitening is cosmetic tooth bleaching, as it removes stains.
How is it done?
There are multiple categories of teeth whitening procedures. The most common procedures are in-office treatment and the do-it-yourself treatments. Cosmetic dentists use hydrogen peroxide or carbamide peroxide. This breaks down the oxygen and enters the enamel of the teeth, and lightens the discoloration of the teeth.
Teeth whitening - Why is it the most preferred?
Teeth whitening benefits an individual in many different ways such as,
1. Increases self-esteem:
A bright smile leaves an imprint and makes the very first impression the best. A friendly smile will help one remain positive all through. Thus, increasing one's self-esteem for good.
2. A faster procedure:
Many treatments take a certain amount of time to show their results. However, teeth whitening done by a cosmetic dentist in Newark will show its results in an hour.
3. A safer procedure:
Teeth whitening is considered a 100% safe procedure with no side effects if performed by a professional. Teeth whitening is the most comfortable procedure and dentists take complete care of the mouth including giving good advice.
4. Provides hygiene benefits:
Stained teeth even if brushed properly twice a day do not change color, thus allowing people to get judgmental about your ability to take care of yourself. Teeth whitening completes the cycle of personal oral hygiene.
Take away:
If you live in Newark, and want to get your smile whiter and brighter with teeth whitening, contact the team comprising Dr. Myung Hae Hyon, Lealon Robinson, DMD and Zalman Lewis, DDS at Park Place Dental Group. Explore their website to gather more information regarding appointments, treatment choices, payment options and insurance facilities. Fill up and submit the patient form or have a conversation with the representatives at Park Place Dental Group right away.